About Us
Welcome to the AllAccem - SANOS Booth!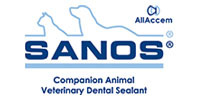 Here you can:
Ask us for Educational Presentations on our products
Watch the SANOS application video on YouTube
Download Technical Literature
Chat with us, Ask Questions
If you can't reach us through the Live Chat our Email is sanos@allaccem.com
AllAccem, Inc. manufactures three products.
SANOS is a subgingival sealant for dogs and cats that seals the gingival sulcus against bacterial attachment that can lead to plaque formation. SANOS is Veterinary Oral Health Council (VOHC) accepted, easy to use and professionally applied, no at-home reapplication needed. A SANOS application lasts for up to 6 months. The dental sealant's hydrophilic polymer design (non-waxy, low viscosity) is uniquely engineered to attract water and allow oxygen to pass through. This enables application of the dental sealant on slightly wet or cold surfaces and affords rapid drying/curing within 10 to 15-seconds. The hydrophilic-porous sealant was designed to create an unfavorable environment for anaerobes to aid in preventing the progression of periodontal disease.
OticArmor is a convenient way to help manage ear infections, professionally applied as the last step in your Otitis Externa protocol. Apply before allergy season and immediately after treatment. OticArmor puts the care in your professional hands to eliminate the client compliance problem. OticArmor helps protect the epidermis which is compromised and sensitive to inflammation due to weakening of the ear canal lining. Apply OticArmor to help patient comfort, shield the epidermis and aid in lengthening the time between reoccurrence.
CutoGuard While topical care is beneficial in the management of skin problems, owner compliance with home care can be challenging. CutoGuard is a professional care product specially designed to overcome home care challenges. CutoGuard forms a barrier that prevents and reduces bacterial and fungal attachment to the skin. The product is professionally applied in the clinic. Upon application, CutoGuard dries rapidly and also forms a protective cover that is flexible and durable. CutoGuard is convenient, effective and naturally wears off as the skin heals.
Contact Information
Representatives
AllAccem Booth Rep Karin Hold
Address
1001 Center St., San Carlos, CA 94070
Phone
Email
Website
| Access Date | Quiz Result | Score | Actions |
| --- | --- | --- | --- |