About Us
Banfield is a community of caring people marked by a diversity of thought, background and approach. We work to create an inclusive environment where Associates can be themselves, so that we can find value in our differences. Together, we're commitment to creating a better world for pets.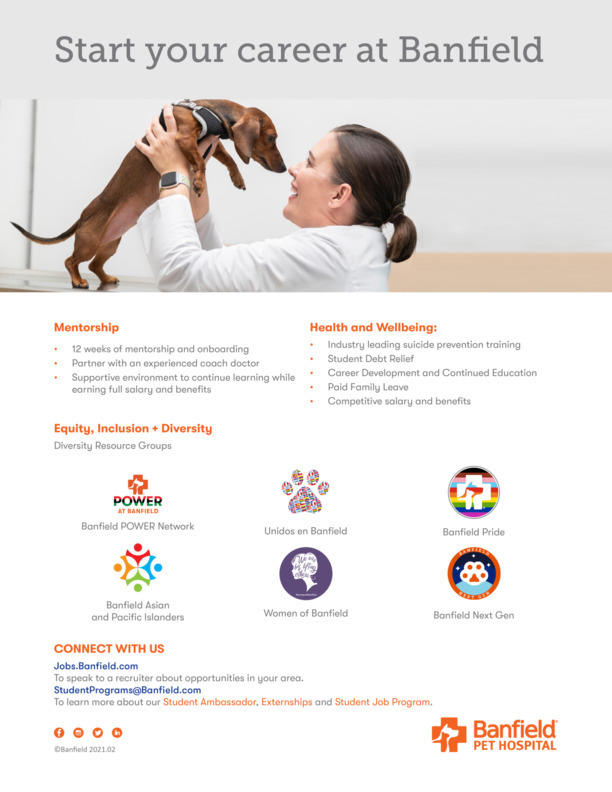 Future Rising
The future is rising and we are here for it. At Banfield, you can #bepassionate to grow as a professional and emerge as a leader; it's part of our culture.
Inclusion at Banfield Pet Hospital
At Banfield Pet Hospital, we believe that every associate, client, and community member can create a Better World for Pets and the people who love them.

Subscribe via RSS
ASK Training

Veterinary professionals work in an environment that requires a high level of compassion and empathy every day. This can sometimes lead to mental health distress, including symptoms of compassion fatigue, anxiety, depression and even thoughts of suicide. We want to help equip veterinary professionals with the skills and resources to help address these situations, which is why we've developed a suicide prevention training called "ASK" — a supportive practical approach to help those we care about who are experiencing emotional distress. ASK" is available as a free resource for all veterinary professionals and veterinary school students at ASKAssessSupportKnow.com.

You must log in to access content.

Equity, Inclusion, and Diversity at Banfield

Our Equity, Inclusion, and Diversity (EI+D) strategy is grounded in The Five Principles. EI+D supports the Associate Concept and our commitment to health and wellbeing. We believe a strong EI+D program provides the necessary linkage between the organization, the communities we serve and our greatest asset — our associates.

You must log in to access content.

The 2022 Veterinary Emerging Topics (VET)™ report

The result of our partnership with the North American Veterinary Community (NAVC), our VET Reports combine the power of data with open, solution-based dialogue to help improve patient outcomes. Read the new VET Report - Implementing Safety and Quality Improvements in Veterinary Medicine. Quality is the relentless pursuit of excellence. For veterinary professionals, it is the key to unlocking the best possible outcomes for pets. A data-driven approach to quality can literally save lives. In this year's VET Report, learn more about the principles of quality improvement as well as tools and concepts adapted from other industries to help you and your practice along your own quality journey. Domains of Quality provides a holistic framework for the care delivered to every pet, every day. Adapted from the Agency for Healthcare Research and Quality and first created by the Institute of Medicine, this tool is used by Banfield to assess quality care. When these elements of quality all work together, veterinary professionals can give the best of themselves to each other and to their clients.

You must log in to access content.
Learn More
Contact Information
Email
Website
Connect with Us on Social Media
Banfield Pet Hospital Poll
Have any questions or what to learn more? Send Us A Message!
| Access Date | Quiz Result | Score | Actions |
| --- | --- | --- | --- |