About Us

For over 95 years, Tuttnauer's sterilization and infection control products have been trusted by hospitals, universities, research institutes, clinics and laboratories throughout the world.
Tuttnauer invests in developing one area of expertise – sterilization and infection control. We have consistently provided solutions to various markets and application needs, and offer a wide range of innovative cleaning, high level thermal disinfection, and sterilization equipment and products, varying in size and application. This allows us to remain at the forefront of our field, developing the most advanced methods and innovative technologies.

The tvet line fits all your sterilization needs by creating cycle parameters to accommodate double wrapped pouches. These cycles ensure sterility and efficient drying of packs and pouches, helping veterinarians meet todays challenging workloads.
At Tuttnauer we pride ourselves on our 95 year legacy, and reputation for having end-to-end infection control solutions and for long-lasting relationships with our customers.
Tuttnauer is your infection control partner.

Tuttnauer tvet Autoclaves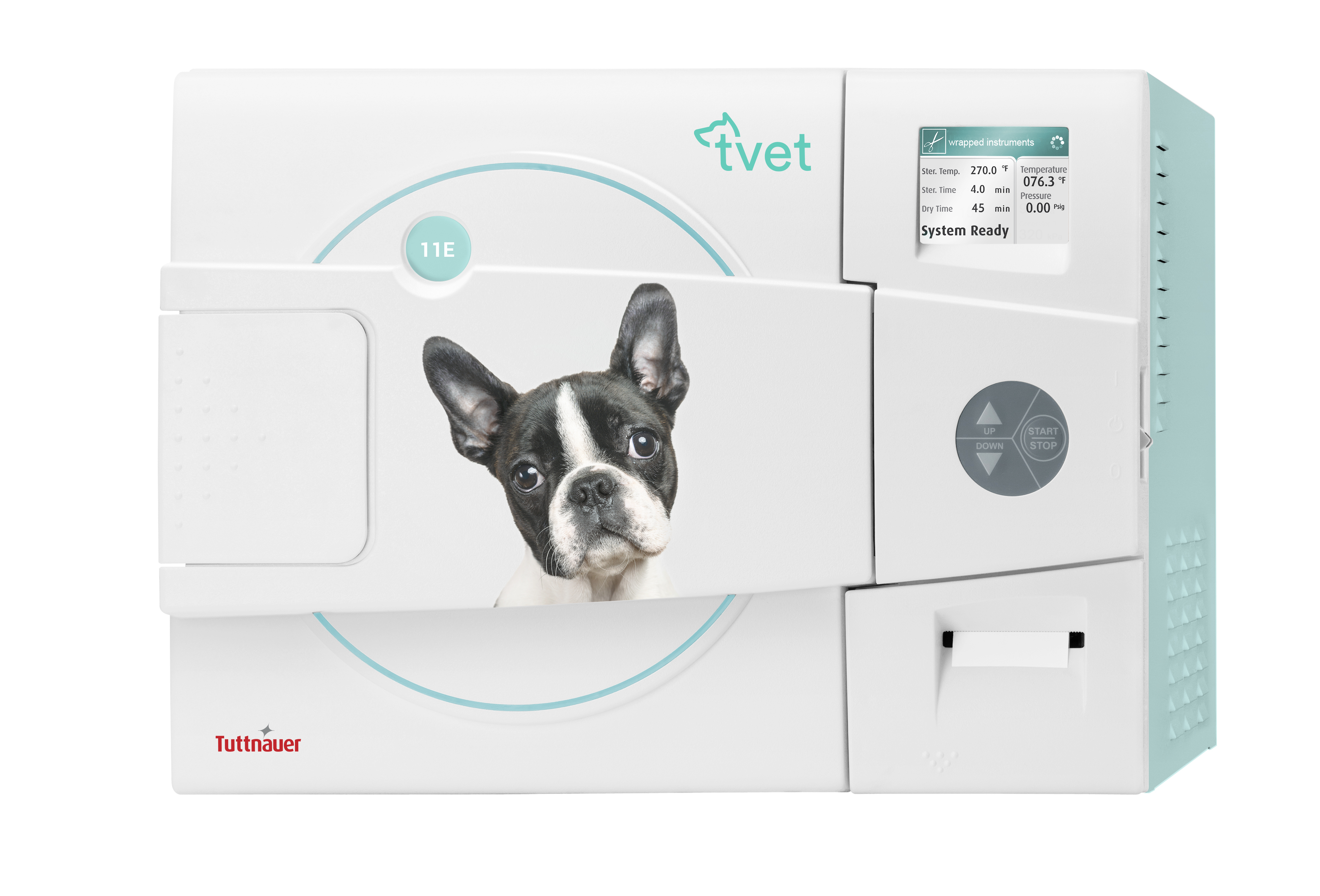 tvet11E
Fully Automatic Sterilizer: Features: closed door drying. Dynamic air removal technology. Self locking door. Innovative Multi-color display with Front or top filling options. USB Port, Optional Printer, Comprehensive 2 years parts and labor and 10 year chamber warranty.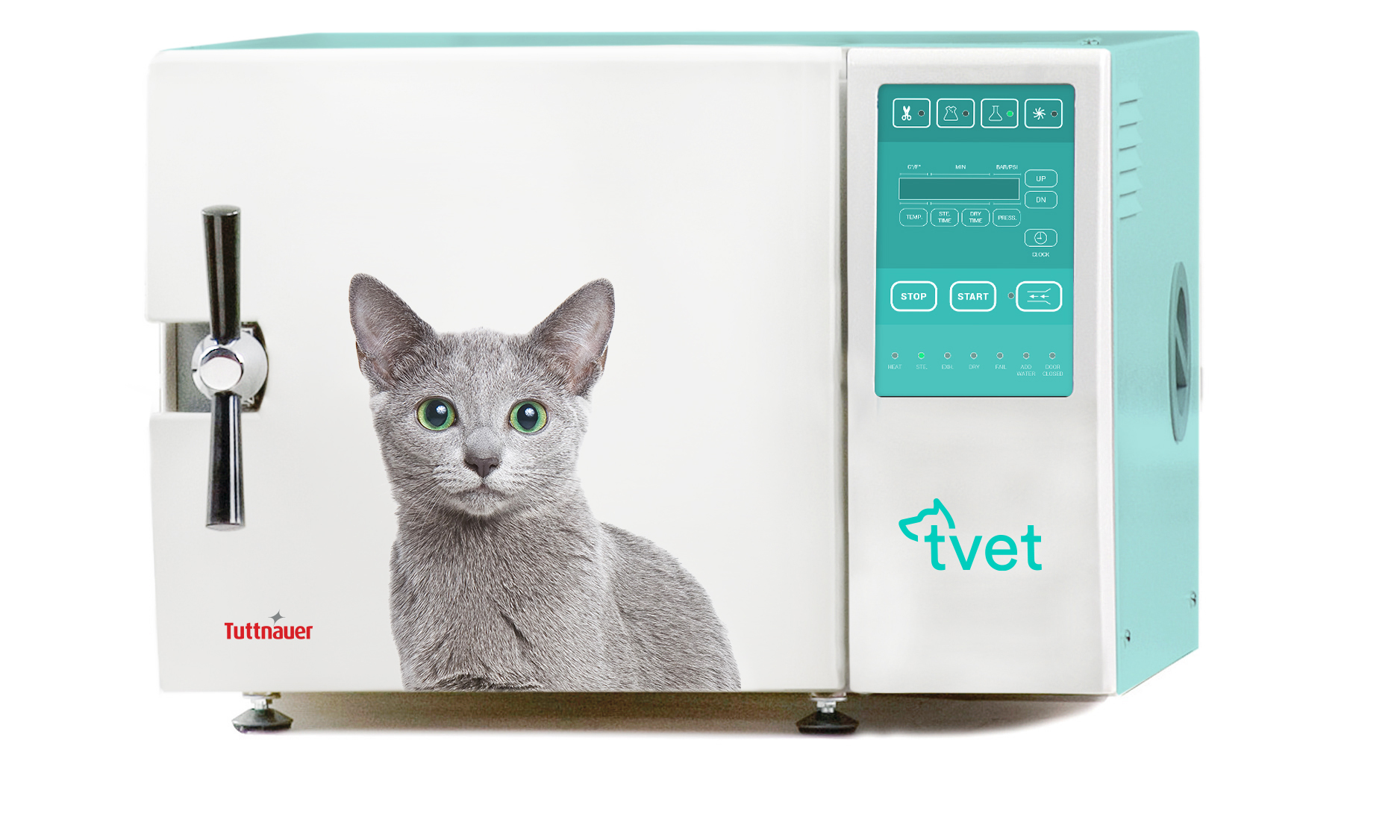 tvet10E
Fully Automatic Sterizer: Features: closed door drying, High efficiency air pump circulates hot air after the sterilization cycle for fast drying. HEPA filter replaceable air filter, Pre-programmed cycles for unwrapped instruments, wrapped/packs, glassware and additional drying cycle. Automatic shut off at the end of both the sterilization and dry cycles.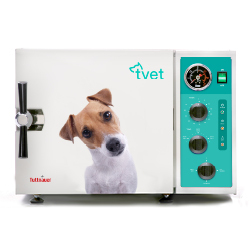 tvet 9M & 10M
Tuttnauer tvet manual autoclaves will compliment any veterinary facility and satisfy all of your sterilization needs. The bright, new easy to use panel was designed with the operator in mind. Time tested reliability and durability are built into every Tuttnauer product.
PlazMax, the Innovative, Low Temperature Vaporized Hydrogen Peroxide Sterilizer
The Tuttnauer PlazMax line for highly effective sterile processing in small and large veterinary hospitals.
Safe, Reliable, Efficient. Three phase electrical supply for all models lowers operational costs, Green technology, non-toxic emissions to the environment, Real-time graphical display of cycle parameters, Standard sliding single vertical door, other configurations are available. Comes in 3 sizes: P50, P110 and P160.
Using Eco Friendly H202 sterilizing agent. The PlazMax sterilizer inactivates micro-organisms with Hydrogen Peroxide vepor and plasma. It sterilizes medical devices by diffusing H202 into the chamber and then converting the h202 molecules into plasma state.
https://youtu.be/J5Rp_b6sevs
User-Friendly Operation: Sophisticated HMI Touch Screen. Multi-color display, Multilingual (26 languages), Real-time dynamic graph display (chamber pressure and cycle process), Process data display (pressure, temperature, vaporizer temperature)
TIVA2 High Disinfector Washers
TIVA2 Washers, Thermal High Disinfector Line. Veterinary clinics need strict cleaning, disinfection and sterilization of instruments before they can be used on patients. Thermal High Disinfection employs moist heat above 194 degrees for a minimum of 5 minutes to kill bacteria and viruses in the washing phase. The TIVA2 line provides: Thermal High Disinfection to achieve a complete decontamination cycle. Also advanced control system and an easy to use interface
Learn more about our products

Subscribe via RSS
Enter Our Raffle to Win a FREE UVC LED Disinfection Box. We will be giving two units away at the end of the virtual show.
Fill Out the form to enter.
Contact our representative
Representatives
Dan McGinley, National Sales Manager, dmcginley@tuttnauerusa.com, 631-704-3281, Chris Benedict, Sales Associate, Cbenedict@tuttnauerusa.com, 516-680-0930
Address
Tuttnauer USA, 25 Power Drive, Hauppauge, NY 11788
Phone
Email
Website
Connect with Us on Social Media
ENTER TO WIN A CHANCE TO WIN A FREE UVC LED DISINFECTION BOX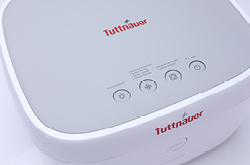 Enter Our Raffle to Win a FREE UVC Disinfection Box. We will be giving one unit away at the end of each show day.
| Access Date | Quiz Result | Score | Actions |
| --- | --- | --- | --- |